Villa Owner Web Design, Internet Marketing
If you don't already have your own personal website on the Internet but would like one then we can help you with the design and Internet marketing. Show off your vacation property in more detail and with style. Let your visitors view more information and photos of your beautiful property. Include your booking forms or availability calendar. Have your "digital brochure" online 24/7 for all the world to see.
Sarah (SLGweb.co.uk) designed and created several vacation property websites on behalf of villa owners. Please visit their website where you can view their web design portfolio and request more information. Once your website is ready Sarah will advise and assist you with the submission and promotion of your finished website to the search engines.
Her rates are very competitive for projects both large and small. Websites starting at just £199 / $250.
If you already have a website but it needs updating and you cannot find your web designer :) Sarah can help you too.
If you are interested and would like to discuss your requirements please contact her.
A Website that Works on All Devices - Mobile Friendly Design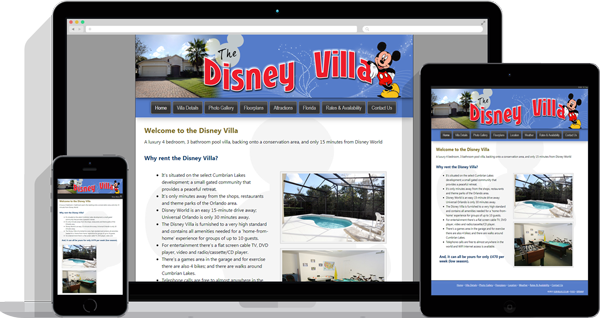 Your vacation rental property can be anywhere in Florida - we have produced websites and virtual tours for owners with properties in Cape Coral, Fort Myers, Rotonda, Bradenton, Orlando, Kissimmee, Davenport and Clermont. We can even create custom websites for vacation rental properties that are anywhere in the World - just supply photos and text.